National League of Junior Cotillions
Woodlands Proper
Welcome
Welcome to the National League of Junior Cotillions, the Woodlands Proper Chapter.
We are looking forward to our 2021-2022 season! Currently we have a few spots remaining for both Year I and Year II gentlemen. While we are running wait lists for ladies in both classes, we still encourage interested parents to register their children as we expect some movement in our class lists over the summer.
NLJC The Woodlands Proper Chapter welcomes ladies and gentlemen in 5th-9th grades in The Woodlands, TX and surrounding areas. Our curriculum is designed to give students instruction and practice in the courtesies that make life more pleasant for them and those around them; to give them thorough training in standard ballroom dance; and to provide opportunities to practice and enjoy these skills at memorable parties, balls, dinners and events, complete with decorations, refreshments, favors and prizes.
The cotillion classes are a mix of etiquette instruction and formal dance including the cha cha, fox trot, waltz, beach shag/swing, and line dances. Dances are taught using current music that is screened for content. The social and character education components of the program include rules of proper telephone courtesy, acknowledgments of gifts, introductions, receiving lines, participating in group settings, polite conversation, paying and receiving compliments, sports etiquette, first impressions, dress code for all occasions, manners in the home and in public places, table manners, formal place settings, styles of dining including American, Asian, and Continental, skills involved in being a guest, hostess or host, and many other areas of social behavior. Other topics covered are the ethics involved in the areas of having honor, dignity, respect, honesty, fairness, a caring attitude, accountability, and citizenship.
Year I curriculum consists of 5 classes, the Holly Ball in December, and the Grand Ball in March. Year II curriculum consists of 5 classes, a five-course instructional dinner in December, and the Grand Ball in March. Cotillion classes last for 1.5 hours one Sunday a month. Our classes are held at the Living Word Lutheran Church at 9500 N Panther Creek Drive. The Grand Ball will be held at the Woodlands Country Club, Palmer location.
The cost of Year I is $425.00. The cost of Year II is $475.00. We ask that tuition be paid with registration to hold your child's spot in the class.
Announcements
Our Parent Information Night is scheduled for Thursday, May 6th at 7pm. It will be held at The Woodlands Country Club, Palmer location (100 Grand Fairway), in the Library.
All interested parents are invited to join us!
About Director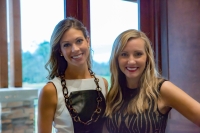 Jena McCrann and Madeline McCrann are sisters-in-law living in The Woodlands. They are thrilled for the opportunity to teach rising 5th-9th graders etiquette, manners, and ballroom dance. After their first year in the National League of Junior Cotillions program, Jena and Madeline received two awards: the 2016 Highest First Year Enrollment Award and the 2016 New Directors of the Year. They can be reached at:
Jena- [email protected]
Madeline- [email protected]