National League of Junior Cotillions
Conway Chapter
Welcome
Welcome to the Faulkner County Chapter of Junior Cotillions. We are beyond excited to offer the opportunity to teach etiquette, manners, and basic ballroom dancing to the next generation. Not only will they have a great time, but this experience will also build confidence and create memories that will last a lifetime.


"Good character is not given to us. We have to build it – piece by piece- by thought, choice, courage, and determination." (John Luther)
NLJC believes that when one pursues good character, one grows into noble character.
Are you impressed when a young person greets you with a good handshake? Do you desire for your child to act and treat others with honor, dignity, and respect? Do you want your child to learn the skills of polite conversation and to value personal, face to face interaction with others? I believe that character education is of utmost importance and hope that you will consider registering your child. We use the tools of etiquette and ballroom dance training to encourage a higher standard of character development.
Cotillion is about feeling confident and comfortable, while making others around you feel the same way in every social situation. Junior Cotillion gives middle school age boys and girls instruction and practice in social skills that build confidence and self-assurance. A group setting provides opportunities for reinforcement and practice with peers in a fun, socially safe atmosphere. Each class follows a carefully structured curriculum that addresses manners, etiquette and basic ballroom dancing. The goal of the program is to teach social skills that last a lifetime. A guiding principle is that students learn best when they are having a good time. The Cotillion year consists of SIX events–five once-a-month classes, and a spring ball.
We hope you will add Cotillion to your child's educational opportunities. You'll never regret the investments made in your children.
Announcements
REGISTRATION IS NOW OPEN FOR THE 2022-2023 SEASON!
Please follow our Facebook to stay updated. Once you register your child, please ensure your child's spot by completing payment. Registration is not completed until payment is made. Class tuition is $325 for Year I and Year II classes. Thank you.
Facebook Link: http://facebook.com/nljcfcc
REGISTRATION AND TUITION Information:
-YEAR I OR YEAR II: $325
-FIRST COMPLETE THE REGISTRATION FORM ONLINE USING THE CLASSES TAB AT LEFT.
-PAY ONLINE THROUGH PAYPAL VIA CREDIT OR DEBIT CARD. (THERE IS AN EXTRA FEE FOR PAYPAL) YOU MUST USE THE PAYPAL LINK ON THE REGISTRATION PAGE.
-OR PAY BY CHECK VIA MAIL AFTER COMPLETING YOUR REGISTRATION FORM ONLINE. IF YOU WOULD LIKE TO PAY BY CHECK, PLEASE MAKE YOUR CHECK PAYABLE TO NLJC FAULKNER CO. PUT YOUR CHILD'S NAME IN THE MEMO LINE OF YOUR CHECK, AND MAIL TO ASHLEY WASHAM 33 THOROUGHBRED DR. VILONIA, AR 72173
-REGISTRATION IS NOT COMPLETED UNTIL A PAYMENT IS MADE. YOU WILL RECEIVE AN EMAIL CONFIRMATION.
-ADDITIONAL PAYMENT PLANS ARE AVAILABLE BY CONTACTING ASHLEY WASHAM, DIRECTOR, BY THE CONTACT BUTTON AT LEFT.
- THERE WILL BE NO REFUNDS AFTER THE FIRST CLASS IN FAIRNESS TO THOSE STUDENTS WHO ARE PLACED ON THE WAITING LIST.


2022-2023 Advisory Board
Mrs. Brian Stewart (Tiffny)
Mrs. Jared Joslin (Colleen)
Mrs. Albert King (Sandra)
Mrs. Joe Bingham (Carrie)
Mrs. Matthew Hoppis (Jessica)
Mrs. Tim Britton (Nicole)
Mrs. Tommy Goforth (Buffy)
Mrs. Charles Ruby (Christy)
Mrs. James Saco (Heather)
Mrs. Joshua Sims (Alicia)
Mrs. Keith McKay (Allison)
Mrs. Shawn Hoelzeman (Amanda)
Mrs. Brandon Ayers (Kristen)
About Director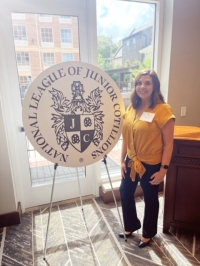 Ashley Washam is from Vilonia, AR. She is married to Jason Washam and they have four children, Olivia, Spencer, Cameron, and Myles. Ashley has spent over 8 years teaching in the elementary classroom. She currently has her own business as a permanent cosmetic artist, helping her clients feel their best. Ashley is excited to be the director of the Faulkner County Chapter of the National League of Junior Cotillions!