National League of Junior Cotillions
Greater San Diego Chapter
Welcome
The Junior Cotillion setting encourages young ladies and gentleman 5th grades to 9th grade to interact comfortably together and make new friends. The social and character component of the program includes; telephone (cell phone) courtesy, introductions, receiving lines, polite conversation, first impressions, dress code for all occasions, manners in the home and public, table manners, formal place settings, sports etiquette and social media. After regular guided practice with their peers, young ladies and gentlemen leave the program equipped with confidence and poise that comes from knowing the proper etiquette in any social situation.
Announcements
___________________________________________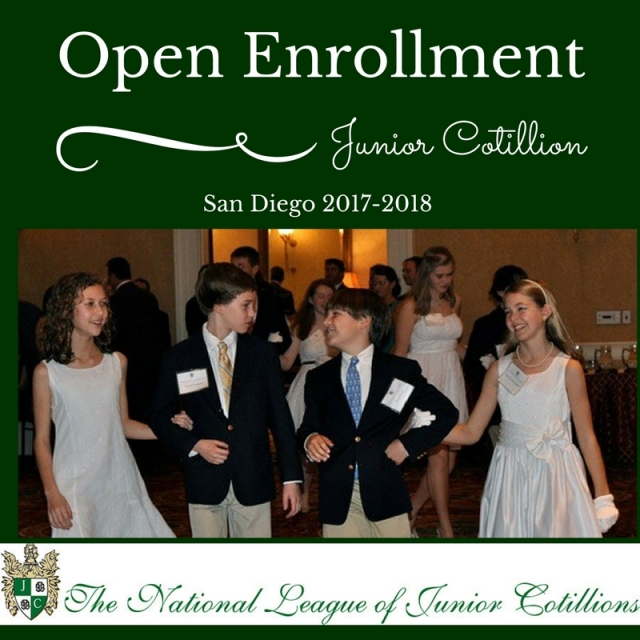 Classes for 5th & 6th, 7th, 8th & 9th grades will begin October 2019.
Location for San Diego Class: The Masonic Event Center located at 7849 Tommy Drive, San Diego, CA 92119.
Registration is open for the 2019 - 2020 SEASON. The class fee is $300. There is a 10% sibling discount.
Class size is limited and is fille. on a first-come, first-served basis.
Season One (first year students) includes 5 classes and two balls.
Season Two includes 5 classes, two balls and a five course instructional dinner.
The Masonic Event Center
7849 Tommy Drive, San Diego CA 92119
Once a child is accepted into the program, there are no refunds in fairness to the students who are placed on the waiting list. Payments may be sent via paypal to debbi[email protected] 619-436-8291 for the mailing address.
About Director
Director Debbie Adelman is licensed and professionally trained by the National Junior League Cotillions. This local San Diegan has produced hundreds of memorable, educational and fun events in their 16 years of business.
As a career woman with family, Debbie understands just how much parents want their children to succeed, and at the same time how it can take a village to equip them to do so. The training provided will give your child the skills and knowledge needed as well as greater confidence in social situations that can help them throughout life. It is with great enthusiasm she presents the National Junior League Cotillions San Diego Chapter.
For more details on the upcoming season, contact our office at
619-436-8291 or email us at [email protected]


The Masonic Event Center
7849 Tommy Drive, San Diego CA 92119