National League of Junior Cotillions
Northern Guilford Chapter
Welcome
Greetings! Registration is now underway for the upcoming Cotillion Season! The NLJC Northern Guilford Chapter will continue to accept students until maximum class capacity is reached. Please register now, as there are a limited number of seats.
The purpose of the NATIONAL LEAGUE OF JUNIOR COTILLIONS is to give students the opportunity to learn, practice, and enjoy age-appropriate etiquette and social and character skills.
Announcements
*We are currently registering for the upcoming Cotillion Season for students in Grades K-12. We hope your child(ren) will join us!
**If you would like more information, please contact our chapter: [email protected]; (336)455-3912.
About Director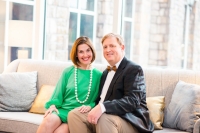 Julie & Brooks Copeland founded the National League of Junior Cotillions Northern Guilford Chapter in 2007, and have taught thousands of students over the years. The Copelands host the Pre-Cotillion Program, Junior Cotillion Program, Premiere Program, and the High School Cotillion Society annually for students in Grades K-12, and also offer private corporate programming for adults (business, social, and educational). Additionally, Julie is Vice President of Talent at HRD Strategies, Inc., and serves as an Executive Coach with UNC Chapel Hill's Kenan-Flagler Business School. Julie is a Graduate of Wofford College, and Brooks is a Graduate of The Citadel. Brooks is employed at Volvo and works in Supply Chain. The Copelands are very civically involved locally and are presently serving together as Co-Presidents of The Greensboro History Museum's Belle Meade Society.
Julie & Brooks warmly welcome your family to join them at Starmount Forest Country Club this cotillion season!