National League of Junior Cotillions
South Brevard Chapter
Welcome
Welcome to the South Brevard Chapter of the National League of Junior Cotillions. We are very excited to bring this wonderful program to the Space Coast! Our classes cover manners, character education, etiquette instruction, confidence building and basic ballroom dance instruction all while having fun meeting new friends. Our program is for young ladies and gentlemen in the 5th-8th grade. Set your children up for success with skills they can use their whole lives. Feel free to email me if you have any questions.
For more information on how to get involved in the Junior Cotillion program,. please contact Enie Windle, Director at 321.693.3235 or [email protected]
Announcements
Our Dress code:
Ladies- Age appropriate dress or blouse with a skirt. Shoes need to have a strap around the heel ( no slides please) or flats work well.
White gloves (tea length) are required. I will be placing an order if you do not own a pair. Please bring $5 cash to the first Class. I will be taking the gloves after each Class to launder. The gloves will be sent home after the Spring Ball so you will have them for next year.
Spring Ball- Our Ladies attire will be white dresses with dress shoes and white gloves.
Gentlemen: Navy Blue ( or Dark) Blazer with collared shirt ( preferably white), tie, khaki pants and loafer type shoes ( non athletic please).
Spring Ball- Same as Class attire.

WE STILL HAVE SPOTS AVAILABLE FOR MORE GENTLEMEN
Class Dates:
The Tides
Sunday, September 19th
Sunday, October 17th
Sunday, November 14th
Sunday, Decemember 5th ( Holly Ball)
Sunday, January 23rd
Sunday February 27th
Sunday, March 6th ( Spring Ball)
5th & 6th Grade : 4:00pm-5:30pm
7th & 8th Grade: 6:00pm-7:30pm
EGYC
Tuesday, September 21st
Tuesday, October 19th
Tuesday, November 16th
Sunday, December 5th ( Holly Ball @ The Tides)
Tuesday, January 25th
Tuesday, February 22nd
Sunday, March 6th ( Spring Ball @ The Tides)
5th & 6th Grade: 4:00pm-5:30pm
7th & 8th Grade: 6:00pm-7:30pm
About Director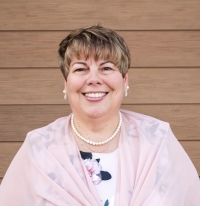 Enie Windle is passionate about serving her community. This wife and mom of two loves giving back through her involvement with the Debutante Assembly Committee of South Brevard, Junior League of South Brevard and the Board of Directors for the Greater Palm Bay Chamber of Commerce. Along with her husband Don, a retired Navy Chief, they own Aloha Maintenance Services LLC specializing in commercial property maintenance. In business for over 20 years, the Windles were thrilled to receive the 2019 Small Business of the Year award from the GPBCC. Enie is very excited to be the Director of the National League of Junior Cotillions, South Brevard Chapter.
"I am honored to bring Junior Cotillion to South Brevard to empower our children with skills that will help them grow into successful, young adults."
Contact Information: Cell 321.693.3235
Email: [email protected]
Website: http://nljc.com/chapter/southbrevardfl
like our Facebook page: http://www.facebook.com/nljcsouthbrevardfl
Follow us on Instagram: @nljcsouthbrevard