Director Spotlight: Thomas and Jennifer Ruff
National League of Junior Cotillions Polk County, Georgia
Thomas and Jennifer Ruff are the Directors of The National League of Junior Cotillion for the Polk County Georgia Chapter. Thomas is a seven year graduate of the NLJC under the direction of Sherrie Kellerman Bartow County Chapter. After his graduation he served an additional two years as a student assistant. Professionally, he is a Sales Specialist for Miura America Co. Jennifer holds a Bachelor's degree in Communication with an emphasis in Public Relations. She also coaches competition cheerleading for their local high school. Thomas and Jennifer enjoy traveling and spending time with their son Porter McClain Ruff age seven. The two of them went through the directors training together and are extremely excited to be able to bring a program like this to their community.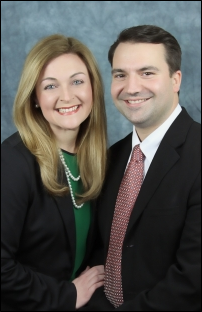 Assistant Spotlight: Laura Ashlee Tillery
National League of Junior Cotillions Polk County, Georgia
Laura Ashlee is a Senior at Cedartown High School. She is a member of the National Honor Society, Student Council, Yearbook staff, Skills USA, and serves as President for HOSA. This will be her fourth year as the Cedartown High School's mascot, Mack. She is a Varsity Softball player and a Varsity Basketball Cheerleader. Her passion for people will really play a leading role in her time spent as an assistant.
" I can't wait to see the students' progress in their skills and knowledge. Pouring your heart into something and seeing the results is the greatest reward." – Laura Ashlee Tillery