Pre-Cotillion Program™: K – 4th Grade
What is Pre-Cotillion Program™?
The Pre-Cotillion Program™ setting will encourage children to be comfortable together, to make new friends and enjoy themselves. Through role-playing, hands-on experience and storytelling in a peer group young ladies and gentlemen are expected to leave the program with the beginnings of confidence and pose that come from knowing the proper things to do.
Who is eligible to participate?
Pre-cotillion is designed for students in the first – fourth grades.
What skills will my child learn in Pre-Cotillion Program™?
Pre-Cotillion I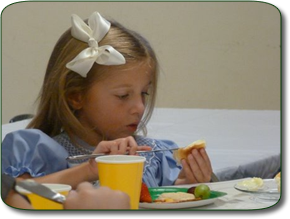 First-Second Grade
Manners in the home
Being introduced and shaking hands
Paying and receiving compliments
Birthday Party etiquette
Basic table manners
How do I enroll my child?
For more information regarding Pre-Cotillion Program™ offerings, please use the "Find A Chapter" map to locate an NLJC director near you.
"Love the reinforcement my son gets from the Cotillion program . . . He shows great manners and character in every activity he participated in AND that it does not go unnoticed.

A Pre-Cotillion Parent