National League of Junior Cotillions
Knoxville Chapter
The Knoxville Chapter of the National League of Junior Cotillions would like to welcome you to this website! You are invited to look around and learn about this outstanding program for educating children and young adults in etiquette, ethics and social dance. It began in Knoxville the fall of 2000. Nearly 4,000 students from over 30 different schools in the Knoxville area have participated as members and have benefited from our one-of-a-kind curriculum. This program has been offered nationwide with headquarters in Charlotte, NC since 1978. It is a time-tested, proven formula for giving students the important social skills and knowledge that will serve them well for the rest of their lives. We are building the leaders of tomorrow and are passionate about sharing the importance of social and life skills training for today's youth.
JUNIOR COTILLION REGISTRATION
Parents may register online or by mail for 2019-2020. Classes are limited and always fill up so parents are urged to submit the registration as soon as possible since classes are filled on a first come first served basis according to the date tuition is received. Payment of membership dues ($340) can be made by check or online and include all costs for the training, dances, the ball and the instructional dinners for seventh and eighth grade students.
The Junior Cotillion season offers once-a-month events for 6th, 7th and 8th grade boys and girls from August until March. Most classes meet on Tuesday, Wednesday or Thursday evenings at Cherokee Country Club. Each class lasts one and a half hours. The Grand Spring Ball is the two and a half hour grand finale to the end of the season and is held at the Hotel Knoxville (former Knoxville Marriott) downtown. All 7th and 8th graders enjoy an Instructional Dinner. The schedule is posted online always.
PRE-COTILLION FOR GRADES K-5
We want to offer our Pre-Cotillion curriculum in Knoxville for elementary school grades K-5. To do this, we ask parents to pre-register their younger children on our website so we can send out information about this new program as it becomes available. The schedule for Pre-Cotillion will consist of four 75 minute classes. The classes will be offered four consecutive days or once a week for four weeks. Click on 'Registration 2019-2020' and sign up for Pre-Cotillion to be put on the mailing list.
WE LOVE OUR CORPORATE STAFF!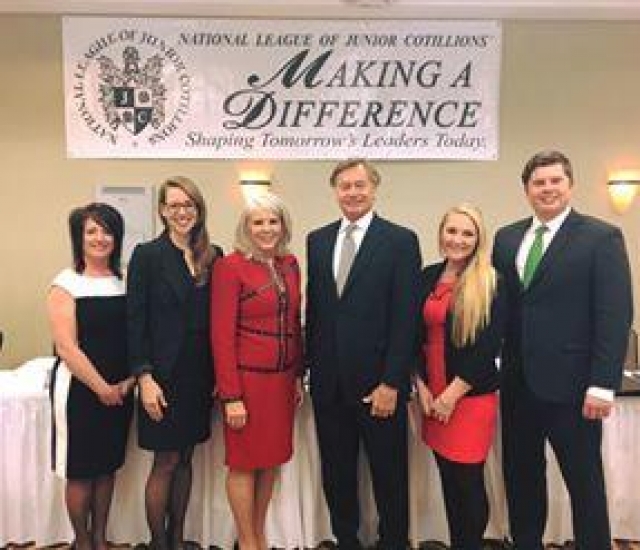 Our corporate staff is awesome! From left to right: Account Executive Hope Sprinkle, Communications Director Sarah Strothman, Chapter Development Director Heidi Latham, Co-Founder and President Charles Winters, Marketing Director Jennifer Winters, Vice-President Charles Winters, II. Not pictured Dance Director Terri Beeson.
DIRECTOR
Mindy Meredith Coulter, founding local director has instructed nearly 4,000 middle school students to date in Knoxville. She enjoys teaching middle school students etiquette and ballroom dancing. This program is invaluable as it includes social and character training for our future leaders of tomorrow, in addition to manners. Junior Cotillion classes are offered for middle school students every year. Mrs. Coulter is also licensed to offer various classes through the Corporate Cotillion program. These etiquette sessions have been tailored for college age students, church groups, clubs, businesses and other community organizations.
She is married to Tom Coulter, President of Meridian Trust and Investment Company, Inc. They have four children. The oldest, Dr. John M. Coulter, a dentist in the Meridian Building in Bearden, is married to Ashley Robins and they have 3 children. Their daughter Dr. Meredith Oruc is an OB/GYN and is married to Igor, a Physical Therapist with PT Solutions. They live in Jacksonville with their one year old baby boy. William is a CPA in Atlanta with Price Waterhouse Coopers. Davis is in Memphis at UT's Pharmacy School. The entire family has participated over the years in Cotillion as a student, assistant or music DJ.
Mindy was born and raised in Johnson City, TN, graduated from Science Hill High School and received her B.A. in Economics from Randolph Macon Woman's College. She also attended UT and worked as a computer analyst there for several years. She loves to travel, likes gardening, reading, biking, skiing, hiking and swimming. She has been active in church, school and community organizations including member of Town and Country Garden Club, member of the National Society of the Daughters of the American Revolution, United Way and Habitat for Humanity volunteer, member of the Leadership Knoxville Class of 2015, TNAchieves mentor, and a Sustaining Member and past Board Member of the Junior League of Knoxville. She is proud to serve in the Knoxville community that she has called home since 1980.